I  don't remember when I  first tasted a shawarma. But a long time ago I  used to wonder what that weird looking kebab pole was used for.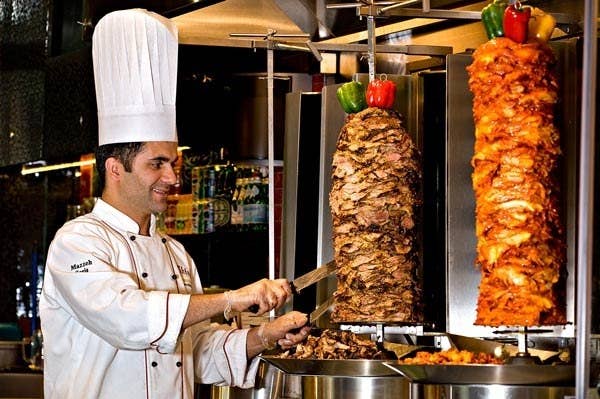 So yeah once i knew what this food item was I pretty much got addicted to the juicy meat, the hummus or mayo, the fresh veggies all wrapped in a nice pita bread or a romali roti… Wow!
It was bloody awesome.
I guess this delicacy got more popular when they showed it on avengers. Where they all try out a shawarma after defeating loki and the aliens. A bit weird how the shawarma guy was still there given that everyone around the block was running for their lives. But it was worth it. He got to feed the avengers.
I do not know the best shawarma joints in Chennai. I have tried it in a shop near Besant nagar beach and in Zaitoon. Both those places had a pretty amazing taste.
After I came to Hyderabad though I got to experiment a little. Here they have a different quantity of food suggested for one person. So I had to search for food items that wouldn't get wasted. Shawarma was a nice classic choice and there were a lot of joints everywhere. My favorite is from this place called Original Shawarma. Everything about that place is awesome.
They even give some sour cream along with every order of shawarma and its so nice to just lick on that cream after I have finished eating a nice spicy roll. So here you go….
Happy Eating!
P.S: There is no such thing as a vegetarian shawarma. No offence to the vegans but please don't believe someone if they say that veg shawarma is available at their restaurant!